Full dentures or complete dentures are used to replace a full arch of missing teeth, enabling proper function for eating while creating a beautiful smile. These dentures fit in the mouth, with suction retention to the soft tissue/ gums.  Full dentures are able to be removed for simple cleaning. It is recommended that your dentures are checked and cleaned annually by your clinician.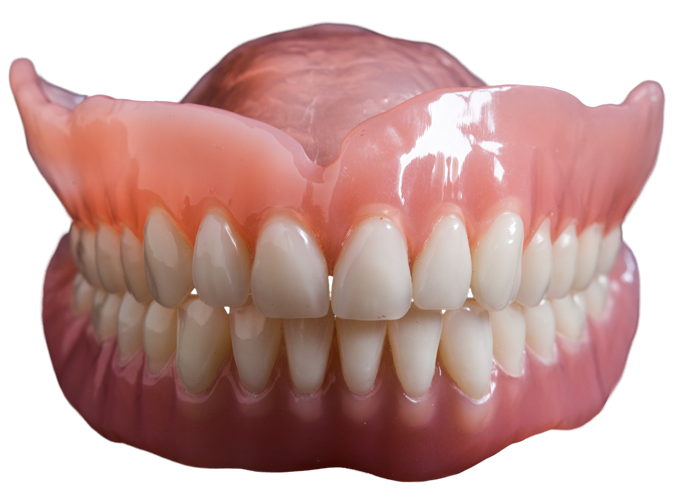 Our Basic Denture is made with a two layered, standard acrylic material. The result is a denture that is the most economical yet durable and fits comfortably.
It is designed for those who seek affordable yet slightly more sophisticated, natural and sound dentures
Enhanced durability
More life-appearance than the standard
Cross-linked resin material
Increased wear resistance compared to standard set
Wide range of shades
The nano hybrid composite material used for the teeth is of very high quality hand made, conventional dentures.

Excellent plaque/abrasion resistance
Wear resistance far superior to standard and premium acrylic teeth
Harmonious cervical transitions and life-like texture effects
Refract light like natural tooth enamel and balanced enamel-dentine ratio for a natural play of light
Wide range of shades
Our Basic Denture is a cost effective option for anyone seeking to restore their beautiful, full smile. Our Basic Denture are comfortable and aesthetically pleasing.
As well as getting the benefits of our Basic Denture. Our Premium Denture fits comfortably with minimal amount of adjustments required over time. The acrylic material will also stand up to everyday wear and tear.
Our Master Class Dentures are the highest quality full dentures available. It is the perfect option for anyone that must have the highest level of comfort with their denture. Our Master Class Denture is also the longest lasting and most aesthetic full denture.