Full dentures or complete dentures are used to replace a full arch of missing teeth, enabling proper function for eating while creating a beautiful smile. These dentures fit in the mouth, with suction retention to the soft tissue/ gums.  Full dentures are able to be removed for simple cleaning. It is recommended that your dentures are checked and cleaned annually by your clinician.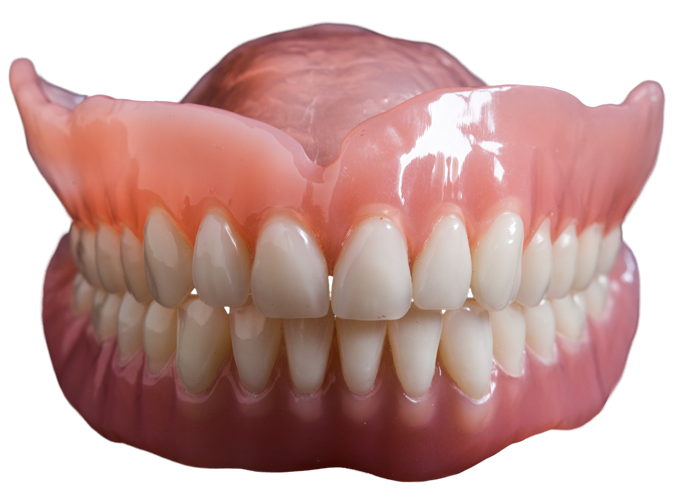 Our Basic Denture is made with a two layered, standard acrylic material. The result is a denture that is the most economical yet durable and fits comfortably.
It is designed for those who seek affordable yet slightly more sophisticated, natural and sound dentures
Enhanced durability
More life-appearance than the standard
Cross-linked resin material
Increased wear resistance compared to standard set
Wide range of shades
The nano hybrid composite material used for the teeth is of very high quality hand made, conventional dentures.

Excellent plaque/abrasion resistance
Wear resistance far superior to standard and premium acrylic teeth
Harmonious cervical transitions and life-like texture effects
Refract light like natural tooth enamel and balanced enamel-dentine ratio for a natural play of light
Wide range of shades
Our Basic Denture is a cost effective option for anyone seeking to restore their beautiful, full smile. Our Basic Denture are comfortable and aesthetically pleasing.
As well as getting the benefits of our Basic Denture. Our Premium Denture fits comfortably with minimal amount of adjustments required over time. The acrylic material will also stand up to everyday wear and tear.
Our Master Class Dentures are the highest quality full dentures available. It is the perfect option for anyone that must have the highest level of comfort with their denture. Our Master Class Denture is also the longest lasting and most aesthetic full denture.
Full Permanent Dentures


Get Your Smile Back with Full Permanent Dentures
If you have lost your smile because of a few missing teeth, you can show off your pearly whites once again with a set of full dentures. Many people who have lost teeth find it hard to eat or speak properly too, when you have these gaps filled, you can once again chew food properly, and your speech will improve. At Wilson Denture Design, we believe in brightening the smiles of those who have lost theirs.
What Are Full Dentures?
Full dentures, or complete dentures, are a removable device that can be used to replace missing teeth. The denture teeth can be made out of different material but most commonly acrylic and are held together by an acrylic base.
Full dentures may be needed when you lose all of your teeth and they can help fill out your smile, and leave you feeling more confident.
There are two types of dentures available: Removable dentures and Fixed (Implant Overdentures) Dentures. Implant Overdentures are usually used when you have ill-fitting dentures (mainly lower), and normal conventional dentures are not helping. Metal screws, normally titanium are placed in your jaw to which the dentures get made to 'clip' on. The dentures on Implant Overdentures are however still removable and it is necessary to take out at night.
How Much Does a Full Set of Dentures Cost?
Your choice of denture design and quality will determine the price you pay for your new fittings. When choosing the right denture for you, take into consideration the type of quality you want but also what your budget will allow. Here is what you should know about the different types of dentures:
●       Double-layered acrylic. These dentures are often the most basic. They look pleasing and are durable. They are perfect if you can't afford more expensive dentures but still want a million-dollar smile.
●       Cross-linked resin dentures. These dentures are more realistic. They are slightly more expensive than the basic dentures but are more durable and come in various shades.
●       Nanohybrid composite. These are the crème de la crème of dentures. They are plaque- and abrasion-resistant, they will last longer, and are made of high-quality materials.
Why Trust Us Regarding a Full Set of Dentures
With many years in the dental industry, our denture specialist keeps up to date with the latest news and technology surrounding the world of dentures. We believe that your self-esteem can dramatically improve once you smile again with a full set of teeth. Our trained, qualified denture specialist brothers have a passion for creating the best smiles possible.
For more information or to book an appointment, contact us.